A Gem is Not a Gem is Not a Gem
We Talking Real Gem or Damn Good Cubic Zirconia?
Hyperbole and cliche in sports really annoy me. Sure, I likely do it all the time. I am an amateur blogger. I do this on the side for fun. The people that comment about sports on major networks, in leading publications and on prominent websites, and do so through the written and spoken, should adhere to a slightly more stringent standard. Where am I going with all this? Gem. One simple word. Terribly overused, misused and criminally abused. Let me explain.

Somewhere…some place…the narrators of our national pastime decided to begin to describe impressive pitching performances as 'gems.' The leap is not overly difficult to make. Definitions of the word 'gem' include "something that is valued for its beauty or perfection. Anyone who's ever watched an artfully-tossed ballgame surely has little problem comparing it to a thing of beauty.

No, my difficulty does not lie in calling a sterling performance a 'gem.' Rather, I take issue with how we've now taken the term and lazily applied it to damn near everything, and, in essence, killed any real meaning the euphemism may have carried.

Case in point. Those who frequent this blog know I'm a diehard Mets fan. I also understand team's home sites and their respective writers also occasionally tilt towards the less objective and attempt to paint a positive picture for their fans. Totally get it. Still, this is ridiculous.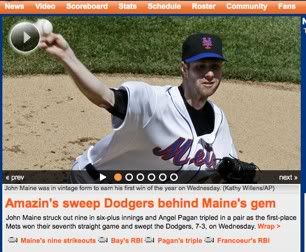 For those that missed it, the Mets won their seventh straight this afternoon. John Maine, who's struggled early, got back to throwing fastballs and going after folks and had himself a much-improved item. According to the headline above it was a gem. Yes, the Maine event struck out nine batters. Indeed impressive. However, let's really look at his performance.

Six innings. Four hits. Three runs (two earned). Three walks. And, yes, those nine Ks. Undoubtedly, a strong outing — even moreso for Maine given his previous efforts. But a gem? Can a six-inning effort even be considered such? A quality start…absolutlely…but gem is a stretch.

Why did this strike my nerve in particular today? Well, because Tim Lincecum happened to throw a very GEM-like game, yet I wouldn't know from the headlines and leads I read. I get that the eventual storyline was an extra-inning 7-6 Phils win. But, umm, how about Timm-eh? Eight and a third. Three hits. Two runs. 11Ks. 1 walk. That, one could argue, is a gem. How the Giants then lost is beyond me and for another day.

So, the lesson in all this? If we're going to celebrate 'gems,' let's make sure they are such. Because the reckless throwing around of the terms is starting to make it hard to figure out if anyone did anything really good anymore.