By Erie's Scribe on Jul 30, 2008 with Comments 8
The Shark was up to his old tricks at Royal Birkdale
Watching Greg Norman, at age 53, take a two shot lead into the final day of the British Open a couple of weeks ago brought us back to the simpler times of our youth. The Great White Shark playing a splendid three rounds at a major was nothing new. Back in the 80′s and 90′s, a Shark meltdown on the final day of a major tournament was routine. It was clockwork, like Buffalo losing Super Bowls or the Dolphins fading in December. Watching The Shark perform a patented Sunday flop gave us a brief moment of nostalgia. A shining moment during the dog days of a summer that has driven at least one member on the editorial staff at The Legend, to the brink.
As the glory of that Norman moment was wearing off, Nancy Lieberman stepped onto the WBNA court last week at age 50 for a game. Needless to say, Nancy's return to the hardwood didn't carry the same sentimental value as Norman's leap back into the limelight, but it did get me to thinking. Maybe we're not witnessing a couple of random moments here, maybe there's a trend starting. If Greg and Nancy can do it in their 50′s, others can't be far behind. Here's who we'd like to see prove that 50 is the new 30.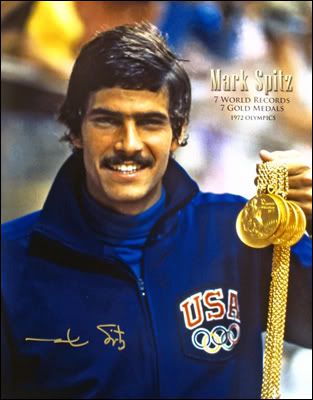 Mark Spitz, 58 — Perfect timing for this Olympic swimming legend. If you don't know who Mark Spitz is now, don't worry, you'll hear all about him and the record 7 gold medals he won at the 1972 Olympics during this year's Olympic coverage. At the ripe old age of 58, we'd love to see him and his mustache come back to do battle with Michael Phelps in China. You want the record for most gold medals Phelps? You're going to have to swim past the man that won 7 gold medals before it was even cool to win 7 gold medals.
Jimmy Connors, 55 — Let's face it, men's tennis is downright boring. The only current men's tennis players I can name are Nadal, Federer, and Roddick. The sport desperately needs characters. What better character to jump in than the 55 year old Jimmy Connors? His brash and bratty behavior would be a breath of fresh air for a boring sport teetering on the edge of irrelevance.


Earl Campbell, 53 — This will be a tough one, since Campbell's bruising running style has left him hobbled in a great deal of pain. But, if cortisone shots work the way I imagine they do, maybe there's a chance. Nobody steamrolls the defense like Campbell did anymore. Like Norman, Campbell is 53, and the thought of him running over an NFL defense this fall is enough to make me a little giddy. (And no the volume on your computer is not broken, the best Earl Campbell highlight video we could find happens to be an homage to the silent film. I recommend the highlight just after the 5 minute mark)
Larry Bird, 51 – If you grew up in the eastern part of the United States in the 1980′s and you say that Larry Bird wasn't your hero, you're probably lying. We won't try to put Larry and his painful back through a full season, but how about bringing back a mic'd up Larry for one more 3 point shooting contest. Listening to Bird talk his legendary trash and then storm out on the court and win the contest has got to be better than whatever they do for NBA All-Star Weekend now.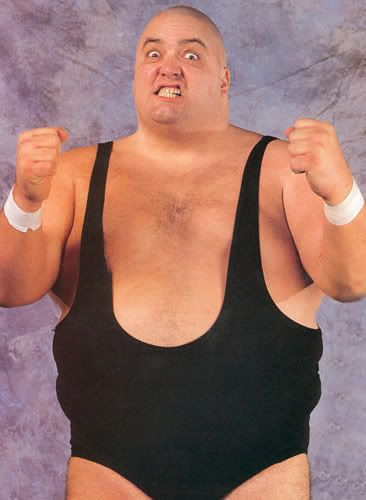 King Kong Bundy, 50 — Just look at the picture. It would be great to have King Kong Bundy around in some capacity.
Dr. J, 58 — The good doctor could teach the current high flying NBA wipper-snappers a thing or two. Plus, maybe he could show off some of his moves from of legendary ABA days which were unfortunately not captured on film. You want to play above the rim? Dr. J will show you playing above the rim.
Joe Montana, 52 — Plenty of QB hungry teams out there. Would you rather have project NFL starting QB's Tarvaris Jackson, Brodie Croyle, Trent Edwards, Josh McCown, Kyle Boller, or a 52 year old Joe Cool running you football team? Joe Montana, game on the line, 80 yards to go, 2 minutes on the clock. Somebody make this happen.
Brett Favre – Oh, he's not 50 yet? Oh, he's not retired anymore? Well, there's a new rule that any and all sports writing must include something about Brett Favre, and I'm a stickler for the rules.
Bill Lambeer, 51 — Lambeer is one of the greatest pro-sport villains of all time. When I think Lambeer, I think of words like dirty, cocky, whiny, and despicable. Let's get one more game from Lambeer to remind everybody of how much we hate him, and then let him ride off in the sunset of WBNA coaching glory. Was there anything more infuriarating than watching Lambeer step out beyond the arc and drain a three pointer that he had no business taking?
Tony Dorsett, 54 — Somehow Dorsett's name gets lost in the shuffle of great NFL running backs. We like the way he glided across the field. Here's what we want from Dorsett, one more 99 yard TD gallop that says "when you bring up names like Simpson, Dickerson, Brown, Payton, Smith and Sanders, you'd best have the name Dorsett ready to roll off your tongue."
Wade Boggs, 50 — Chicks might dig the long ball, but here at The Legend, we dig singles roping 3rd basemen who don't look all that athletic. Give us a steady third sacker with a career .328 batting average. We'll take the rumored legendary feats of beer consumption and the crazy superstitions that go with it. Hey, maybe Boggs can make us forget that he closed out his career with the Devil Rays.
Filed Under: Uncategorized
About the Author: I am a Cleveland sports and Buffalo Sabres fanatic. I'm currently living in Erie, but even when I'm not there, Erie runs deep in me. I'm an ex multi-sport goalie, and we goalies tend to see things a bit differently. I went to college with Cecilio's Scribe and I am also a Big Red afficiando. Otherwise my college sports loyalties are all over the place. I try to keep my posts light, but I'm a Cleveland fan so the occassional rant is possible (inevitable?).
Comments (8)