Best Sports Movie 'Players' of All-Time?
The Immortal Alvin Mack, One of Our Personal Favorites
Our creative juices are too tapped to adequately address this topic and present a definitive list. Plus, in the blogosphere, the idea of anything definitive is completely foreign. Instead, we'll try to make this more of a group participatory exercise.

Long story short, on a train back from U.S. Open the other night with a few work colleagues. The topic of "best" sports movie player comes up. Fast-forward two days later, and we haven't stopped talking about it. The debate has led to several more important questions in terms of how we break it all down. "Best" based on what? Talent? On-field production? Star-power? Best character? Top single-game performance?

Then, the arguments began to extend to the definition of sports movies. How liberal are we with such a moniker? Little Giants? Bad News Bears? The Sandlot? Which sports? The four majors? Do we include classics like Side Out and White Men Can't Jump? Billy Hoyle was a sports movie player in my book.

So, what's the point? As is frequently the case, we have no idea. Others have touched on this genre is ways far more clever than we are attempting. We have neither the time, nor the energy. So, we're looking to you sports blogosphere for your heroes of the hardwood…your greats from the silverscreen gridiron…your diamond dandies. Share some of your favorite sports movie players of all-time. In no particular order, here are a few of ours.

Billy Ho. Lethal from outside, a slick passer and, once-in-a-dog's-ass, the versatility to take it hard to the hole.

The sickest heat, not to mention the phattest glasses ever donned by a reliever this side of Kent Tekulve.

Jesus Shuttlesworth. If there has ever been a prettier jumper, I have yet to see it.

Sure, Balboa is everyone's favorite. But Drago was a freak of nature. I've never seen anyone run at 10.0 MPH on a treadmill on a full incline. Ever. He's a machine.

Maybe he is just another gangbanger with speed. But did you see the moves on that punt return? Nasty.

Daniel Bateman. Borderline psycho? Yes. Tackling machine? Absolutely. Carrying on the legacy of other dominating #56s.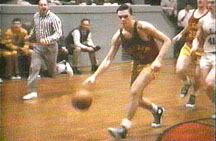 Jimmy Chitwood. The heart and soul of Hickory High. Unlimited range and the ability to spark his team at any moment.

The Natural. 'Nuff said.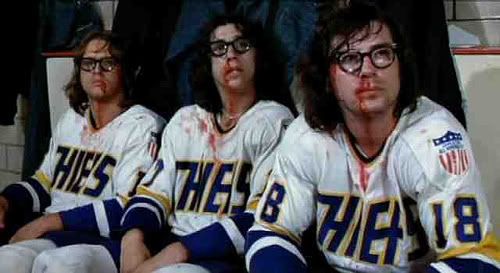 The most intimidating trio in hockey film history.
So, who are your 'best' sports movie players? Hit us up in the comments. We are well aware of the many, many we have omitted. Hence, group excercise.