Classic 80s/90s Sports Posters, Vol. IV: The Icons
When we first launched this series about a month ago, the vision was to honor those posters from our youth that were so awful that they were great. The images that made you cringe at their cheesiness factor, while simultaneously compellling you to stand up and applaud…and then go hunt for any remaining copies on eBay. That spirit will continue to guide future editions of this series. Today, though, we remember two icons.
In the midst of all the great and ridiculous submissions we've received, even those who clearly recognized the spirit of this series couldn't help but mention two REAL classics time and again. To say they were symbolic of an era would probably not be overstating too much. As a new member of the 30-something crowd, these images are instantly recognizable to any of us who loved sports, embraced popular culture and fun-taked anything to our bedroom walls.
I could probably utter the words "wings" and "Bo" without even having to show the pictures below. But we will, because they are classic. And by classic…we mean enduring…cool no matter what decade you're in…timeless…and, like, totally awesome! (in sing-songy 90s valley-girl voice)
Here's to Bo and MJ…and re-living our youth for a moment (or at least mine). Now, go scrape that blue glue sh*t off the walls!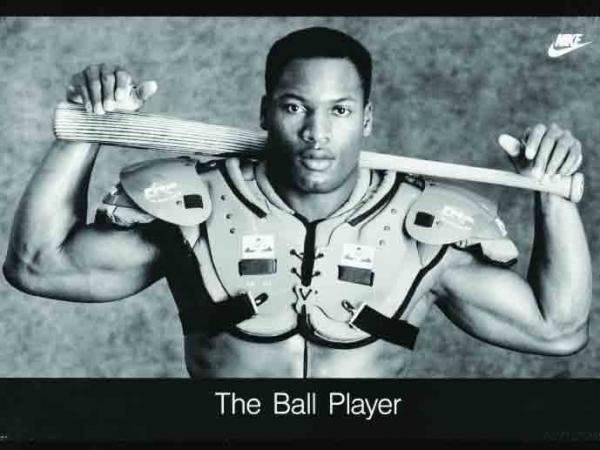 Click below to view prior editions of the Classic 80s-90s Sports Poster Series. We'll be back next Friday with another installment. As always, keep the entries coming to legendofcecilioguante@gmail.com. Give us your name, along with a brief write-up about the image and any blog/site you'd like us to plug (and keep it relatively clean, y'all).