By Cecilio's Scribe on Feb 01, 2008 with Comments 2
It's Friday. Which means one thing here at The Legend. Classic sports posters. Today, we hang in the 90s with the Buffalo Bills. They were really good at the beginning of that decade. Remember? Before Rob Johnson and Flutie and Losman and crew? Probably had something to do with three Hall of Famers named Kelly, Thomas and Smith.
And, if you were a pro football star in the 90s, you definitely had at least one classically-cheesy poster created in your honor. These Bills studs were no different. The following from our readers.
Attached is a classic 90's Buffalo Bills poster that is still hanging in my childhood bedroom. Not sure if Erie's Scribe has any love for the Bills but they produced some excellent posters in the early 90's, including "Machine Gun Kelly" and "The Thurminator."
MB in Buffalo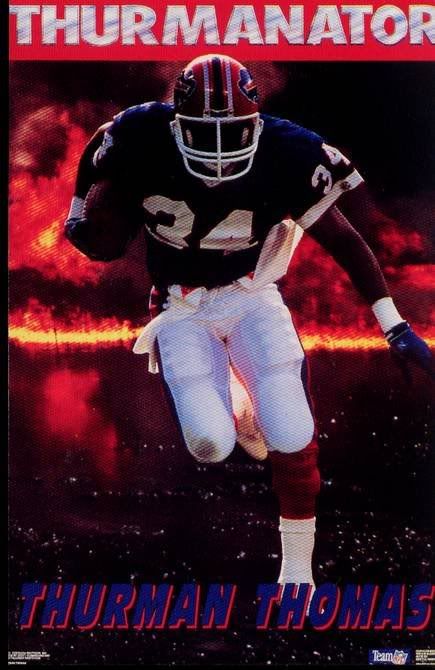 Yes, both classics, MB. Well played, sir.
And lest we not forget The Bill Collector (also via a tip from MB).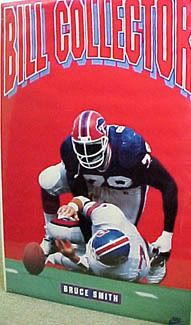 Bruce Smith used to bad things, man. Bad things…
Click below to view prior editions of the Classic 80s-90s Sports Poster Series. We'll be back next Friday with another installment. As always, keep the entries coming to legendofcecilioguante@gmail.com. Give us your name, along with a brief write-up about the image and any blog/site you'd like us to plug (and keep it relatively clean, y'all).
Filed Under: Uncategorized
About the Author: Cecilio's Scribe is the founder of The Legend of Cecilio Guante and a generally pessimistic fan of the Mets, Jets, Knicks and Rangers. A fine NYC-based gentlemen who hones his marketing skills as his primary trade by day. Husband, chef, father of a newborn and after-hours blogger by night. Proud alum of the mighty Big Red of Cornell. University. Hot sauce devotee. Staunch protester of the continued wussifcation of American sports. Sometimes I rhyme slow, sometimes I rhyme quick.
Comments (2)