Guns are Only OK for Sports Figures in Russia, M'Kay?
Your Guns? Bad. Yours? Funny!
On the random side, thanks to the fine folks at Hardwood Paroxysm, I caught wind of the intriguing photo above right. It features Utah Jazz-turned-CSKA-for-now forward Andrei Kirilenko. Kirilenko is known, at least here in the States, for his often-amazing Drago-like hair (as daring as it is versatile), above-average skills, his wife's get out jail free card offer and, of course, his nickname. The beauty of which is captured by Wikipedia:

He is sometimes nicknamed AK47 because his initials are AK and his jersey number is 47.
So, what to do when introducing Kirilenko as the newest member of your Russian team during an NBA lockout? Break out the assault rifles!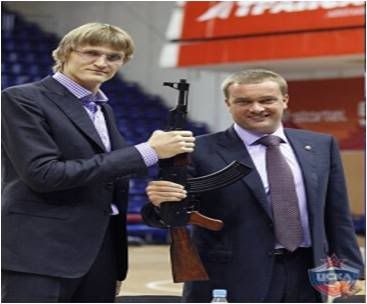 Hey, we're all for fun imagery, people. Heck, some of those old Costacos Brothers posters were all about firepower. Still, times have changed. Athletes and guns are bad, m'kay? Moreover, it immediately got got me to thinking about another athlete pictured with guns recently – James Harrison.
Now, Harrison is an NFL Defensive Player of the Year and carries (one could argue) a much higher profile than a former NBA All-Star playing for the Utah Jazz? And sure Harrison also managed to skewer Roethlisberger, Goodell and generally sound mildly insane in his Men's Journal interview which surely intensified the brightness of the spotlight and subsequent media chatter. But does the unequal volume of coverage tied to his posing with guns versus AK47 translate? Not so much.
The difference is clear. While gun culture with athletes is a hot button here in the States, the Russians don't seem to give two shites. Correct, comrades? Lock and load.