Ingle Martin IV and the Scariest QB Roster in Recent Memory
One Big Hit Away
No politics here, but you know how some folks seem mildly concerned by the notion that one Sarah Palin could be a "heartbeat away" from the presidency? I thought that was a pretty good metaphor for how Chiefs fans must be filling this week as they prep for the J-E-T-S to come to Arrowhead. Why? Because the Chiefs are one hit away from Ingle Martin IV stepping in under center to lead them.
All together now…WHO? Our sentiments exactly. Unfortunately for Chiefs fans, some further digging into the credentials of Mr. Martin de quattro is not particularly inspiring. The die-hards over at Arrowhead Addict ran down Martin's "resume" back on September 9th. Surely at that time there was no reason to think Ingle could seriously enter any game as a #2 quarterback. But, alas…
So, for anyone keeping score out there, here are the Kansas City Chiefs three active quarterbacks heading into Sunday:

1. Tyler Thigpen: The Coastal Carolina product was selected by the Vikes in the seventh round of 2007 NFL Draft. He has had only one career start which came earlier this year in the Chiefs 38-14 loss in Atlanta. He went 14-36 for 128 with a touchdown and three picks. Thigpen is your starter, and the most appealing option for Herm at this very moment. Frightening. Really, really scary.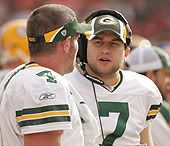 2. Ingle Martin IV: Ingle has been named the back-up for Sunday. He has appeared in one game back in 2006 where, if we had to guess, he took not one but two knees. A Furman product, Martin has officially been a member of the Chiefs for just over a month.

3. Quinn Gray: Just announced, the Chiefs are expected to sign Gray to bolster their QB options (uh, good idea). Being as he will have all of four days with the KC playbook under his belt by Sunday, it is not anticipated he will be ready and available. Gray is by far the most experienced of the bunch. I give two weeks before he takes over the Chiefs, as he probably should based on what he's done in the League.
So, are we all clear? That would be Tyler Thigpen, Ingle Martin IV and Quinn Gray. That, my friends, is powerful stuff. Seriously, drink in that quarterback lineup for a minute. Now, not to pile on as we know the injury situation in Kansas City is uniquely awful given the timing of Croyle and Huard, but can you think of a worse trio in the NFL?
Orlovsky, Stanton and Henson are a pretty special threesome themselves, but even the Lions crew is attractive when compared to the the Chiefs current signal-callers. Honestly, has there been a team in recent NFL history who's headed into a real regular season game with a stable of quarterbacks this bad? If so, can someone please tell us?
Meanwhile, the sickest irony in all of this? My Jets could very well lose to this team. Can you even imagine the heat from the NY media in Mangini were to drop one to Herm and this bunch following last week's awful loss at Oakland? We just physically shivered at the thought.