Looking at BCS Conference Teams' S.O.S. (Strength of Style)
Staying Strong
OK, so what if it's still a little over a month out. It's within my realm of consciousness. Those who've been around these parts a bit, know how I love me some college football. And it ain't too far around the corner. In that spirit, I was thinking about the return of college football, the pageantry, the rivalries, the traditions, the competition and all the other things I love about the game. Then I remembered one more – the uniforms.
Don't get me wrong, there's nothing that is particularly distasteful about the "colors and marks" donned by the big boys on Sunday. But there's just something a bit more intriguing about the regalia of the D1 college powerhouses that take the field each fall Saturday. In this post, there are no stats to consult, no record books to review. They say beauty is in the eye of the beholder. I don't have a PhD in uniform history, nor do I possess a fashion degree from F.I.T. These are just the unis that sing to me, people. There is no science applied in what follows. This is based on 25 years of watching college ball and saying "damn, those guys look good."
Some of you are likely to nod your head in agreement, while others will no doubt strenuously object. In those cases, let us agree to disagree. To keep it manageable, I focused on the six "automatic bid" BCS conferences and offer a quicker take on those additional "eligible" conferences. And…we're off…
ACC


Conference Leader: Florida State
The 'Noles take it for me in the ACC. The garnet and gold just pops on the field. They look bad-ass, and the helmets are among my favorites in all of football.
Honorable Mention: Elsewhere in conference, I dig both the Virginia schools – with VaTech and the Cavaliers. I've always appreciated Clemson as well with the paw print helmets and shoulder pads, but I just can't get over it when they break out the all-purples. Purple and football just don't mix, no matter what the Tigers or Vikings say.
Big 12 Conference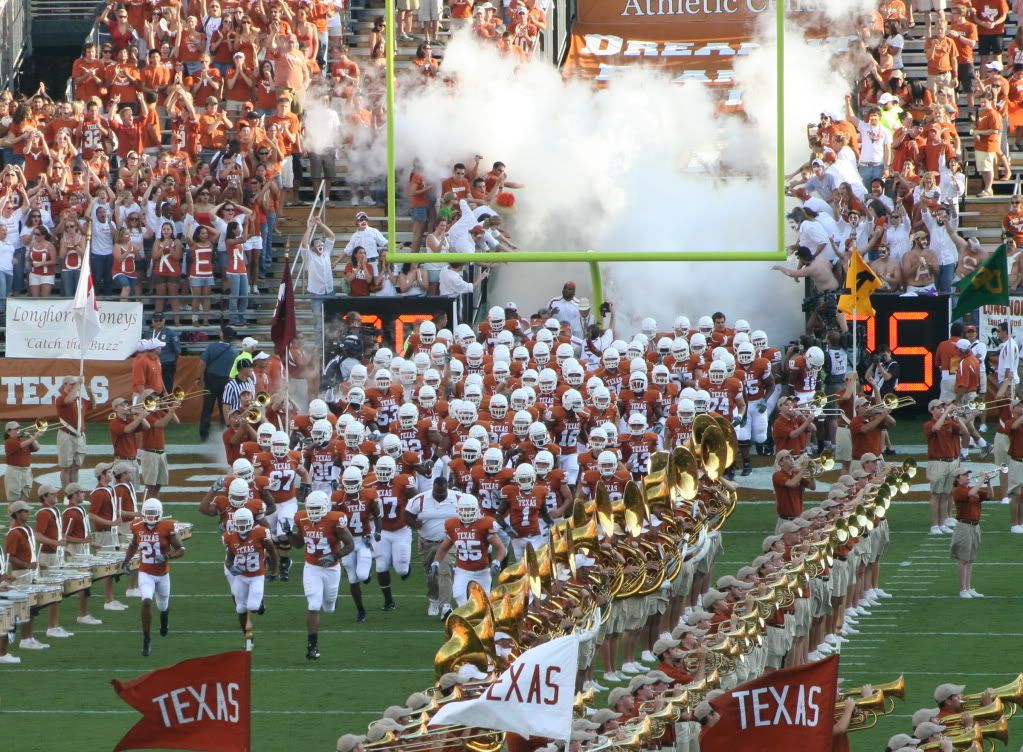 Conference Leader: University of Texas
Maybe I'm biased because as a Northeasterner who attended a decidedly non-bigtime-football institution, UT is the one place I've seen multiple college football games (on account of friends and ex-girlfriend from 'round those parts). Regardless, I still believe there is something about the Horns unis that screams both classic and cool. Love the white helmet with the logo that hasn't changed, and the block caps TEXAS. I even like the all-whites. Go figure, right?
Honorable Mention: This conference killed me. How could I not go Buffs when they've been my adopted team for the past two decades? Tough, very tough. Truth be told, I loved the old-school CU unis but not as down with more recent versions. Without the 'Horns, I probably would have gone with the Big Red of Cornhusker country. On a random side note, while I usually can't stand the solid one-color get-ups, I don't even hate the Red Raiders all-black barrage.
Big East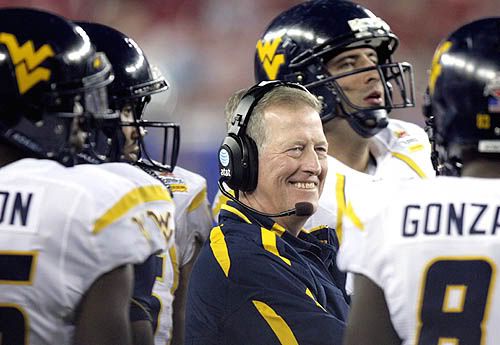 Conference Non-Loser: West Virginia
There are no out and out "winners" here. It's more "whose unis suck the least." Somewhat to be expected from a conference whose soul is still rooted more on the hardwood than the gridiron. The Mountaineers are the best of the bunch but only with the blue pants and white jerseys. Too much else has been modernized and the yellow(er) and bluer(er) versions are not at all my speed. Helmets at least have remained unscathed.
Honorable Mention: None. The rest of this conference is pretty terrible. All seem to moving toward "modern" contemporary fonts and refreshed versions of logos and mascots that looked better in their old forms. I'd rather just move on.
Big Ten Conference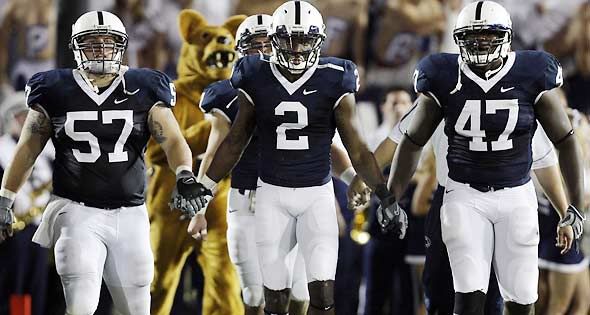 Conference Leader: Penn St.
This is what it's about. Thee of the black shoes remain the creme de la creme. I didn't get it when I was younger, I do now. Simple. Classic. Awesome.
Honorable Mention: This is one of my favorite uni conferences across the board (the style of play is a whole 'nother story). You've got to give the Wolverines and Buckeyes their uni dues, but there are a number of stalwarts from the Spartans to the Hawkeyes and plenty in-between. They do it right in dat dere conference.
Pac 10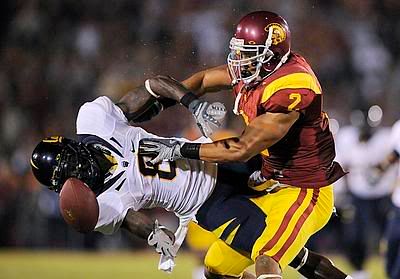 Conference Leader: USC
Not a huge SC fan, but one can't knock the threads. Like the red-on-red of jerseys and helmets, the piping on the yellow pants and golden arcs on the shoulders. The lack of any USC emblazoned across the chest, and the Trojan on the helmet is all sorts of money.
Honorable Mention: Not open and shut on this one. I think the Arizona schools are underrated, and I don't mind what teams like Stanford and UCLA bring to the table. But, in the end, nothing's coming within shooting distance of the Trojans. Certainly not any Ducks or Beavers.
SEC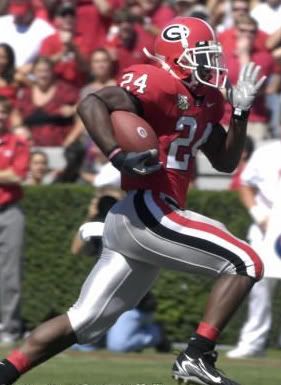 Conference Leader: University of Georgia
I've always been a Dawgs fan – and that extends to the unis. When I was younger, I almost pulled the trigger on a #5 Garrison Hearst model but didn't have the stones to throw down the cash. Simple is sometimes better, plus the helmets and that distinctive Georgia "G" just work. I'm also feeling the black alternates. Plus, since I was in high school, I've always been a fan of the helmet sticker (whether it be paw prints, tomahawks or what-have-you) and the Dawg bones are no exception.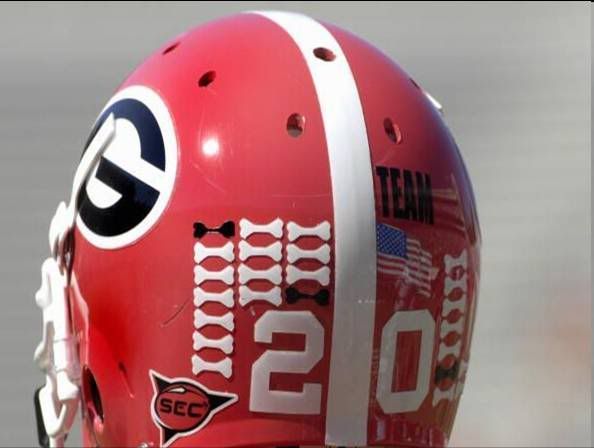 Honorable Mention: Everyone else. Seriously, the SEC is not just the best, most exciting college football conference in the land for their play on the field. They also snare top billing when it comes to uniforms. You can debate this one until the cows come home, and you probably won't get much of a fight from me with whomever you want to put forward. You love 'Bama and think I'm nuts? I get it. Want to make a case for Pig Sooie or Auburn, I feel ya. LSU? Sure, I can see it. This conference is stacked from top-to-bottom. I almost went Ole Miss to be honest, but they've also made some "modern" updates I could do without.
The rest of our quick-pick favorites for those BCS-eligible conferences.
Conference USA: Slim pickings, but I'll take Marshall with a slight edge over Southern Miss. Not a whole lot to work with here. Which will become a theme here…

Mid-American: I mean…I really don't know. Turner Gil's boys at Buffalo, even though their unis look exactly like the Wildcats down in Lexington? Or maybe the mighty Bobcats of Ohio? Nominate who you may.
Mountain West: An underrated football uni conference in my personal opinion. I like the Utes and the Aztecs of San Diego St. Back in the day, BYU or Air Force would've been my shoo-in nominations. I don't like what either has done recently at all. So, I'm going to with the Rams of Colorado St. and their green and yellow horned helmets.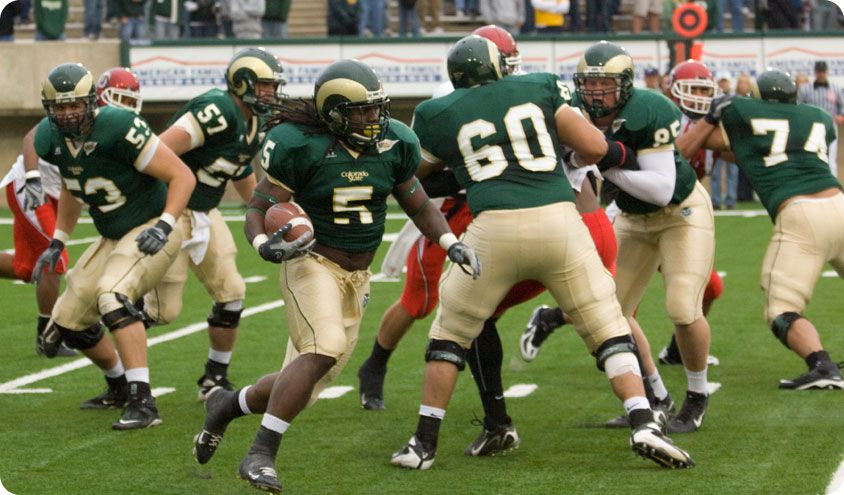 Sun Belt: I have to admit at mention of Sun Belt a group of contenders did not immediately flood to mind. In fact, I needed to indulge in a bit of a refresher to familiarize myself with the options. My ultimate selection…still thinking…open to suggestions…
WAC: I'll wrap it up with the WAC. Not for nothing, these aren't my favorites either. A lot of same color pants and jerseys…whole lot of the same colors all over (see Hawaii, Fresno St., Boise). I'm going to go with a darkhorse here: The San Jose St. Spartans.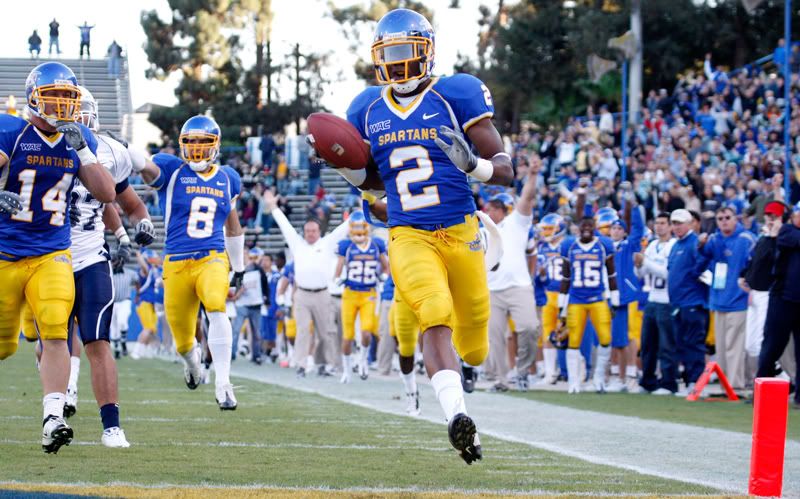 So, let the rocks fly!

Ed Note: I'll be out most of day following this post, so apologies for delay in responding to any comments/haters.