Major Leaguers with "Alligator Blood"
I love Teddy KGB. Could be one of my favorite movie characters in a non-comedy in the past 10 years. Call me crazy. Something about the accent. And, moreover, the accents on the accent.
Cah-nt get reed of heem. Keed's goht al-ee-gay-toor blahd.
Speaking of which…why is Rounders never on television? Doesn't it seem tailor-made for network TV? Not a ton of violence, no sex and you can bleep out the curses and still not completely kill the better dialogue of the film. Plus, it's has infinite watchability in the sense that you can tune in at various times and get sucked in knowing a $$ scene is just around the corner (outside of the whole boring law school 15 minutes and maybe the Yeshiva sit-down chat with Professor Petrovsky).
We digress. The point of this is alligator blood. Football players careers are somewhat finite; bodies can only take so much punishment. Although slightly more enduring, hoops players typically don't make it through good portions of multiple decades. There are the Bobby Horrys and Sam Cassells who will seemingly be lacing it up into the next millennium. And, of course, who-want-to-sex Mutombo.
But it's baseball where players seem to stick around forever. Sometimes it's not reality, but rather perception. Combine the length of each contest, along with a 162-game schedule and a lengthy postseason, and longer-tenured players often seem as if they've been on our TVs for centuries.
For instance, when I was a little kid I remember finding a few Dan Plesac cards in my Topps pack from time to time. Ten years later in high school I could've sworn he was still playing. Another decade past, after I'd long since graduated college, I couldn't be convinced that Pleasac wasn't on somebody's active roster. I'm still not sure about it.
Plesac played parts of 18 Major League seasons with six teams. He was never phenomenally good (although he did make a few All-Star games early on as a closer), and he was never insultingly bad. He just kind of kept playing and playing (lefty specialists have a superlative strain of alligator blood). So, all of this got us to thinking. Who are those guy on active rosters today who demonstrate that Dan Plesac-like quality? Which Major Leaguers have "alligator blood?"
For the sake of this discussion, no middle relievers or pinch hitter extradonaires (sorry, Lenny Harris, Ray King, Julian Taverez, Craig Counsell and the like). We want guys who have managed to consistently make starting lineups and/or get significant playing time regardless of whether they've ever done anything to merit such (thereby disqualifying Greg Maddux or even Steve Finley and Luis Gonzalez-types).
Using very little statistical data of any kind, here are a few that come to mind for us. Add your active "alligator blood" guys in the comments.
Steve Trachsel
Current team: Baltimore Orioles
Years MLB Service: 16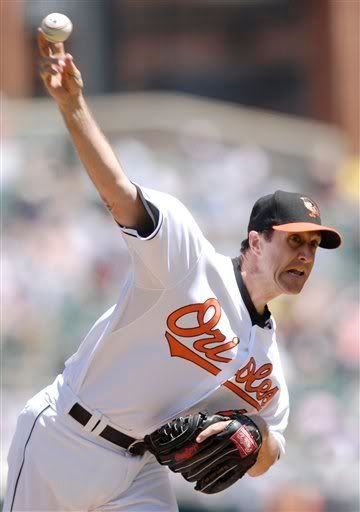 Since he's a former Met, we've got a soft spot for "Trax" in our heart. OK, not really. We just woke up from his last start, we'd dozed off somewhere in between a pitch in the fifth. Trachsel has been hurling in the majors since 1993. His career record: 143-158. His ERA comes in at a thoroughly-mediocre 4.33. Top his 16-year career with he fact that he takes approximately 35 minutes between pitches, and it's no wonder it feels like Trachsel has been around since the Paleolithic era.

Brad Ausmus
Current team: Houston Astros
Years MLB Service: 16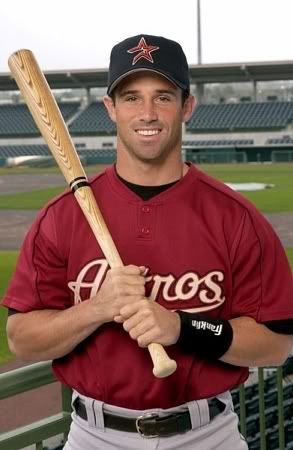 It feels like Brad Ausmus has been the Houston Astros catcher for 30 years. In reality, the career .254 hitter has played for the Padres and went to an All-Star game in '99 for the Detroit Tigers. Who knew? Most importantly, Brad Ausmus is most definitely the Bossmus
(apparently).
Gregg Zaun
Current team: Toronto Blue Jays
Years MLB Service: 14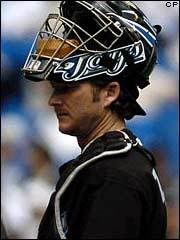 Zaun is the AL-equivalent of Ausmus. Fourteen seasons and a lifetime .252 hitter. Unlike Brad though, Gregg (with two g's) has no All-Star appearances or Gold Gloves to his credit. Granted he's never been a real full-timer, but Zaun has played in over 1,000 games and logged nearly 3,000 plate appearances. Amazingly, little of significance has been left behind.
Doug Mientkiewicz
Current team: Pittsburgh Pirates
Years MLB Service: 11


For some reason, I've always found Dougie immensely likeable. Maybe it's the funny, hard-to-spell name…or perhaps the barehanded batting. Whatever the case may be, he is one of those guys who keeps showing up on Major League rosters and finding his way into games despite having lost his bat about five years ago. Mink still flashes decent leather around the first base bag, and he has that unique alligator blood-type that it wouldn't surprise you if he's still around a few years from now. Somehow. Somewhere.

Miguel Cairo
Current team: Seattle Mariners
Years MLB service: 13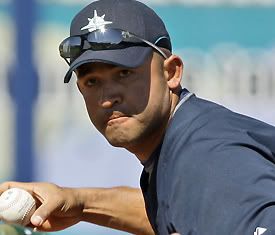 Cairo always scared me in those Subway series games against the Metros. He knows how to play the game and doesn't make easy outs. Cairo is one of those guys you could see as a manager…if he ever stops playing.
Livan Hernandez
Current team: Minnesota Twins
Years MLB service: 13

s
Livan is going to be chucking 200 innings a season until he's 55 years old. I would've bet the house that he was done at a few times during his 13-year career. However, he's nothing if not consistent. Clubs can count on Hernandez at the back of their rotation to go out, compete and "keep you in games," which is about all managers expect nowadays. A lifetime .519 winning percentage guy, I expect Livan to keep on keeping on for at least a few years (and a few more teams).
Others receiving LCG votes: Tony Clark (Padres), Damion Easley (Mets), Brett Tomko (Royals), Craig Counsell (Brewers), Jamie Moyer (Phils)
So, who else you got, LCG readers?