By Erie's Scribe on Aug 15, 2011 with Comments 3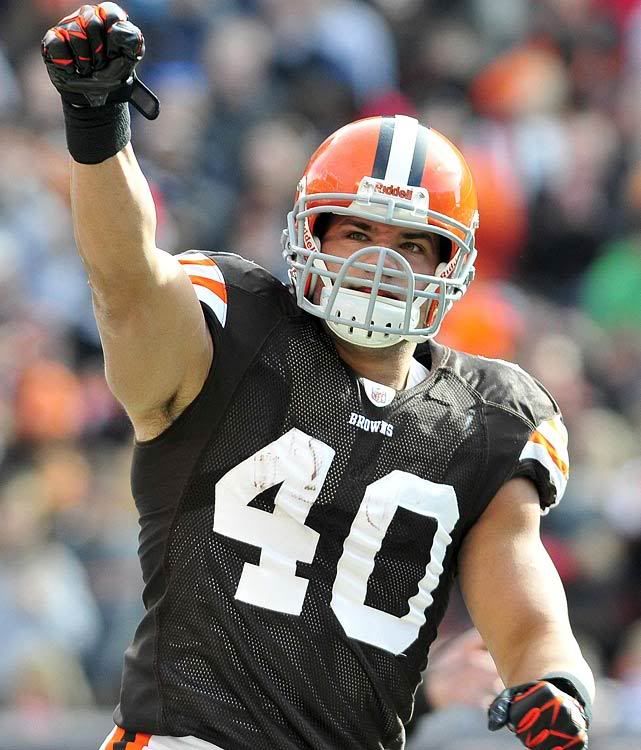 Peyton Hillis was a revelation for the Cleveland Browns last year. He came out of nowhere to win the hearts of Browns fans everywhere by running over opponents and sometimes jumping over them. He is a blue collar guy ripping sh** up in a blue collar town.
A man like this needs a great nickname. Many have tried, but none have been successful to our knowledge. If you type in "Peyton Hillis nickname" to Goggle or Yahoo, you will find the efforts to give the Madden cover-boy a suitable nickname. A place whose work I am not too familiar with gave it a shot, Dawg Pound Daily (they must be okay if they like the Browns). Glad they tried, but I wasn't satisfied. My favorite suggestion was "The Pasty Punisher," which came in second to last in the poll. Albino Rhino and and Juggernaut seemed to be popular choices.
Hillis mentioned to Dan Patrick that he has heard White Rhino and Chuck Norris as nicknames. I'm not satisfied. Dan Patrick said he liked "The Avalanche" as a nickname, which would be okay if Hillis still played in Denver. He doesn't. Denver brings bad memories for Browns fans. We've even seen this (awesome but not made for the masses, some would even say in bad taste) as a nickname.
So, the search continues. We throw it to you, Legend faithful, come up with something good. Some things to know about Hillis before you dance. 1) Not only is he white, but he is one of the whitest dudes on the planet. For those of you who know me, he makes me look like George Jefferson. 2) Hillis is a devout Christian and he is not afraid to tell you about it (in interviews of course, I've never met him to my knowledge). 3) He's from Arkansas, went to college in Arkansas, and his face mask kind of gives him a wild hog appearance on the field (see above photo). 4) He runs people over. 5) He has great hands. 6) Despite having a semi-truck running style, he is fast as hell, quite nimble, and likes to jump over people.
Here are our efforts at a nickname for Hillis (and its tough to come up with a nickname for a guy I don't know personally): The Kevin Baconator (or just the Baconator), The Ivory Bowling Ball, The Honky Tonk Man, Bluto, Hog Snot, PigPen, Curly, Jethro, The Minister of Punishment, Clear Gravy, King Tut, Hogzilla, and Geronimo.
We'd love to hear from you, readers, I'm leaning towards Hogzilla.
****Editor's Note: The Big Lead feels they've put this one to bed, The Predator. Great pic….I like Peyton "The Predator" Hillis……I still am not completely satisfied though. I'm probably nitpicking here, but I can't have a Predator without dreds. The main reason is I always thought that was delightfully, the goofiest part of the movie, an alien beast with heat sensing vision, invisibility cloak, fricking laser beams, and of course dreds.****
Filed Under: NFL • OFF THE BENCH
About the Author: I am a Cleveland sports and Buffalo Sabres fanatic. I'm currently living in Erie, but even when I'm not there, Erie runs deep in me. I'm an ex multi-sport goalie, and we goalies tend to see things a bit differently. I went to college with Cecilio's Scribe and I am also a Big Red afficiando. Otherwise my college sports loyalties are all over the place. I try to keep my posts light, but I'm a Cleveland fan so the occassional rant is possible (inevitable?).
Comments (3)