Preseason Top 10 Things To Love About College Football
College Football is Almost Here. Hip, Hip Hooray Indeed

Today, my friends is college-football-is-almost-here celebration day. On Thursday, the season officially kicks off with Wake and Baylor. I have not an inkling of an affiliation with either of those institutions but, regardless, I can not wait.
Don't get me wrong, I'm like every other red-blooded American alpha-male. Sundays are devoted to The League. And Mondays. Sometimes Thursdays. Saturdays later in the fall… Give me the Jets at 1 and Giants at 4, and I'm the proverbial pig in sh*t. Toss in another FOX or CBS game to jump with and top it off with a decent Sunday night game? It doesn't get much better than that.

But I'd still take a Saturday in October over the NFL's best almost any day. College football just has something. Maybe it's the uniforms, the passion, the rivalries…maybe it's the crowd, the youth, the number of schools you can follow…
All I know is that I can sit and watch an early Big Ten game, followed by some ACC afternoon action and into the night with the SEC and Big 12. I have not one logical reason for rooting for any team. I didn't go to LSU or Florida. I am not a Notre Dame alum or Michigan Wolverines fan. I grew up in a NYC suburb and my alma mater — well, they're really good at lacrosse.
Back to what it is about college football. I can't put my finger on it. So, here are only a few of the things that immediately come to mind in no particular order. Those of you who either (a) attended an institution with big-time college football or (b) have witnessed multiple games of a big-time program in-person, please share/comment/testify.
10. Helmet Stickers: Sure, they might seem a little amateurish, but they make sense for the college game. I'm a big fan of the tomahawks at FSU and the dog bones at Georgia. I don't even mind the weed stickers they throw on those silver melon protectors in Columbus. If nothing else, it's a pretty quick way to identify the sick mofos on the field.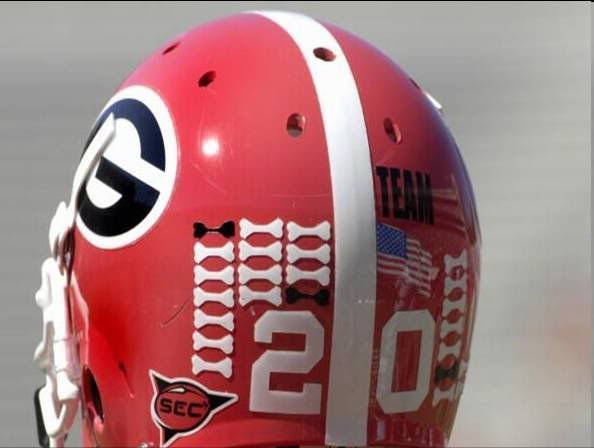 9. Stadiums with Nicknames: It's not Alltel Stadium or Raymond James, for the most part (I still can't believe there's a Papa John's stadium, but I guess a college campus is as appropriate a place as any), and that's a good thing. The Swamp. Death Valley. Between the Hedges. The Shoe. Nice.
8. Fight/Stadium Songs: You can debate the best until you're blue in the face. Fact is, you didn't go to the school and yet you still hum along to the fight song. That's pretty big time. I'm also a sucker for those teams that make the trip over to the hometown stands following a little "Eyes of Texas" or "Rocky Top." Good stuff. Even seeing the stands shake at Camp Randall to House Of Pain is pretty cool.
7. SEC Cheerleaders: Sure, you can talk to me about SC's Song Girls. I also love the gals in chaps down in Austin. And, yes, I realize I led this post with an ASU cheerleader, a group that has proved stellar in the past. But pound-for-pound, other stuff for other stuff, I'll take the collective "body of work" of the lovely ladies from the likes of Florida, LSU, Georgia,'Bama and the like. Give me some SEC.
6. The Option: Doesn't matter who runs it on any other level, it still looks infinitely prettier when some well-oiled collegiate machine breaks it out. I for some reason could never take my eyes off Oklahoma when they used to run it in the 80s and 90s (unstoppable). It's even impressive to watch the service academies run the option with such discipline (although not quite as exciting).

5. Pushups. Cannons. Galloping Steeds. Stampeding Buffaloes. Slobbering Dawgs. War Eagles. Check out this list if you're not getting the idea yet.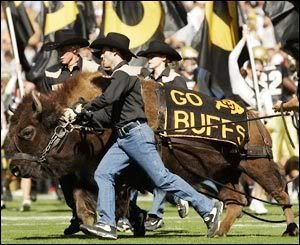 4. Enter Sandman: This could have easily been incorporated into #8 (and probably should have been), but I feel like it deserves a stand-alone. I've never been to Blacksburg, VA. Frankly, I haven't heard the crowd at many other college football stadiums in this country. I do know one thing. I still remember this game, and this intro, five years later. Awesome.
3. B.M.O.C.'s: Sure, being the star point guard at UNC is probably pretty cool. The stud laxer at Hopkins? He can likely strut around campus like his sh*t don't stink. But there are few teenagers or young 20-somethings in the world who can preside over an institution like the quarterback of a major D1 powerhouse. Hmmm, let's see who might be a decent example…

2. Bands: Actually, I don't like them. I really don't. Even that dotting the "i" thing. They could go away along with the wave. Fill up the time with #7. We're not conference-biased, either.

1. Bowl Games: Playoff, schlayoff. Sure, the system could use some fixing. But let's not do anything rash that would sacrifice what makes the college football post-season great. Frankly, I'm a little disappointed at the number of games now taking place ridiculously early and offensively late. January 1st should be an absolute bonanza where it's not about finding the best game, it's about finding the three best games to jump to and from. But bowl season is still a celebration of endless bounty — and so is college football. Let the fantastic-ness begin.

PS: If a few of you are thinking this post is vaguely familiar, you're right. I wrote something similar back in the early days of this lil' blog endeavor. So, if you're one of the four people who was reading then and now (read: mom, dad, sis, bro-in-law), my sincere apologies.