Suh and Spiller Steal the Saturday Show
I thought about titling this post "The Ndomitable Suh," but it seemed just a little too easy. "Another Spiller Thriller," was also a bit too trite for the taking. Like thousands of other diehard college football fans, I eagerly anticipated Saturday's slate of games. In a season that has lacked that certain intangible quality that intrigue and excitment can combine to produce, yesterday's lineup was replete with those storylines we love to hype: the final game in the storied career of St. Tebow; #1 against #2 for the SEC title and a trip to Pasadena; stages for McCoy, Shipley, Tebow and Ingram to put a stamp on their respective Heisman resumes; the Bearcats aiming to remain in the mix.
Yet, for anyone who watched most of the action, despite the late-game heroics in Dallas and Pittsburgh and impressive individual efforts from the backfield in Crimson, two men stole the show. And, now it's going to be damn hard to convince me that Ndamukong Suh and C.J. Spiller aren't the two best college football players in the country.
Spiller and Suh turned in two of the most dominant performances of the season — which are only made more impressive by the stage (conference championship games) and the notion that they were likely the focal point of their respective opponent's game plans. Let's start with Suh. Simply put, it's been ages since I've seen a defensive lineman dominate/control a game to the degree #93 did in Dallas last night. Suh tossed around a veteran interior Texas offensive line and was everywhere on seemingly every play. He lived on Texas's side of the line of scrimmage registering 4.5 sacks and 7 tackles for loss.
Suh finished with 12 tackles, 10 of them solo. Taken collectively, these are absurd numbers for any defensive player. For a defensive tackle playing against one of the country's top offenses, hell playing against anybody, they are unheard of. We've been brainwashed by the Heisman pose that the recipient of the award needs to be one who constantly has the ball in his hands. How about his 10 pass deflections this season? Well, if the Heisman is about "best" more than hype we should see Ndamukong in NYC.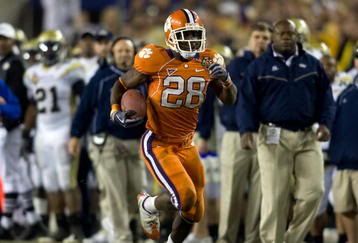 Then, there was Spiller. While Suh was single handedly keeping the offensively-challenged Huskers (pun intended) in the game against the 'Horns, C.J. was covering Kyle Parker's pedestrian 10-17, 91-yard 2 pick effort by running over, around and through the Georgia Tech defense to the tune of over 300 all-purpose yards, including 233 rushing on 20 carries and four touchdowns. I wrote about Spiller's explosiveness a few weeks back following a similar dismantling of the Seminoles. This was like deja vu all over again. Great vision, blazing speed and (hold the vomit) a will to win that you can see just as much as any of the tear-shedding types (see: McCoy, Tebow), all despite supposedly operating at somewhere less than 100%.
Spiller's night tops a season in which he has garnered over 2,000 all-purpose yards and reached the end zone 19 times. Now, granted, his FSU and Ga. Tech showstoppers were against defenses that haven't shut down much of anything this season. However, in the one game on the schedule against a top-10 rated defensive unit (TCU, #5), Spiller put up solid numbers with 112 yards rushing, 79 receiving and a score (along with 36 yards on two punt returns). Regardless, watching this kid play he's consistently been the best player on the field week-after-week. It's not his fault he hasn't lined up against the likes of a Nebraska, Alabama or Florida defense.
If you ask me, I got to watch the two best all-around players in college football yesterday. Here's to hoping others saw enough of the same to invite Mr. Suh and Mr. Spiller to Manhattan.