By Erie's Scribe on Jul 16, 2011 with Comments 4
It's turned into a nice little sports weekend. If you poke your head in from the sunshine for a few moments, or need to nurse a sunburn in a mancave, you might catch The British Open or baseball revving back up after the All Star Break. But maybe the Women's World Cup Final is the featured contest of the weekend? One of the leaders on a US ladies soccer team which does not lack character(s) is goaltender Hope Solo. With the World Cup Final tomorrow, it got is to thinking, whose powers are greater, goal-tending stalwart Hope Solo or a man we assume is her distant cousin, Han Solo? Let's take this down, tale-of-the tape style.
Hope Solo: Dynamite US goalkeeper who might be the best female at her position in the world.

Height: 5-foot-9. Seems like good size for a keeper. But check out her reach….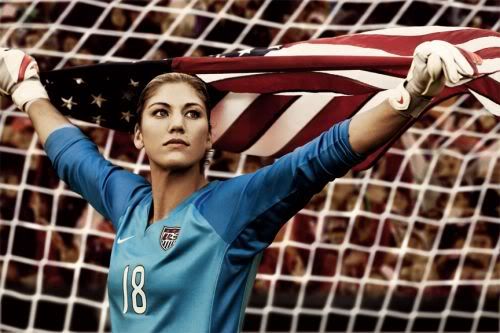 Hails From: Richland, Washington. A wild woman from the Left Coast.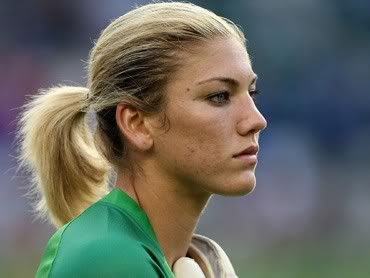 Best quote: On being benched in favor of Briana Scurry for the 2007 World Cup Seminfinal, a game which the US lost 4-0 to Brazil: "It was the wrong decision, and I think anybody that knows anything about the game knows that. There's no doubt in my mind I would have made those saves. And the fact of the matter is it's not 2004 anymore. It's not 2004. And it's 2007, and I think you have to live in the present. And you can't live by big names. You can't live in the past. It doesn't matter what somebody did in an Olympic gold medal game in the Olympics three years ago. Now is what matters, and that's what I think." No, tell us what you really think, don't hold back.



Best Qualities: Super athletic. Fierce competitor. Got that swagger, the ole X-factor. I also like her blue eyes.
Han Solo: A swashbuckling, quick witted, smart-ass, cocky smuggler. Has military experience with the rebel forces.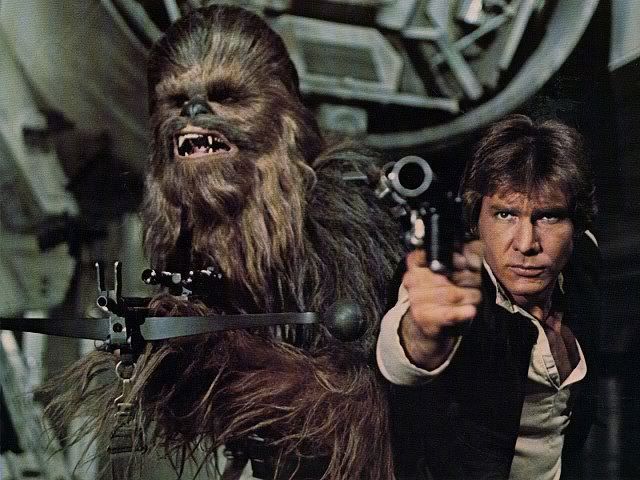 Height: 6-foot-1 or perhaps 5-foot-11, I've heard it both ways. Han plays it pretty close to the vest so complete details on him are hard to dig up. Hence we have to by by artist's renderings of Han Solo sometimes, like below.

Hails From: Corellia, a planet far, far away my sources say. Speaks perfect English, though.

Best quotes: Where to start? So many good quotes with Han. I particularly like this exchange with Princess Leia: "why you stuck up, half-witted, scruffy-looking, nerfherder." Han Solo: "Who's scruffy looking?" Can't complain about this one either: "I'm out of it for a little while and everybody gets delusions of grandeur." You really could go on and on here.
Best Qualities: Great at flying. Lets his brashness take him places he shouldn't go. Doesn't take a lot of guff from anybody. Hangs out with a Wookie. He's pretty funny.
Bottom Line Analysis: While Hope Solo is fresher on the scene and in our minds, it's going to take a lot to top Han Solo. Han has proven to be a clutch performer, and was key in taking down the Empire against some big time odds. Hope, however, has a huge opportunity to add to her legend tomorrow afternoon in Germany. Han does not have this luxury. I'm giving a nod to Han today, but if Hope comes up big and leads the US to World Cup victory tomorrow….all bets are off.
Filed Under: Uncategorized
About the Author: I am a Cleveland sports and Buffalo Sabres fanatic. I'm currently living in Erie, but even when I'm not there, Erie runs deep in me. I'm an ex multi-sport goalie, and we goalies tend to see things a bit differently. I went to college with Cecilio's Scribe and I am also a Big Red afficiando. Otherwise my college sports loyalties are all over the place. I try to keep my posts light, but I'm a Cleveland fan so the occassional rant is possible (inevitable?).
Comments (4)