The LCG's Inaugural MLB All-Crazy Team
Oh Captain, My Captain
Some might call them volatile. Others prefer the term "fiery" be associated with their personalities and behaviors. Personally, I just call them flat-out craaaazy. You know the guys. The players whose respective fuses perpetually seem seconds away from ignition. The players who go off at completely unexpected moments, causing announcers, fans and managers alike to scratch their heads in wonder as to what exactly led to their detonation. The ones who media label as "troubled," "enigmatic" and "mercurial." Or, like we said before, the crazy guys.

Not that all of these dudes are evil or anything. On the contrary, they often display some of the same behaviors we love to see in players – competitiveness, hustle and a don't-back-down mentality. There are also plenty of times when these same folks just go off and completely lose their minds.

In their honor, we've compiled our inaugural "All Crazy Team." You've heard about the All-Madden team, this is the same, only completely different. OK, rules. For now, we've kept our focus exclusively to active Major Leaguers. Meaning, if you've maybe beheaded a cat or something along those lines (but no longer inhabit an MLB roster), you are, unfortunately, ineligible.

Enough preamble…

What is it about outfielders? Their crazy credentials are just off the charts. In fact, we think we could put together an entire outfield whose mental stability could rival any other currently active threesome in pro sports.

Elijah Dukes, Washington Nationals (OF)
Dukes instability is rather legendary. He's attacked, threatened or traded spittle with managers, journalists and, most notably, his girlfriend and her children. Apparently, he's immensely talented which is clearly evident from his sick stats in D.C. this season. Sorry, Elijah. I didn't mean it…honestly…

Milton Bradley, Texas Rangers (OF)
Bradley
most recently
made headlines for going after Kansas City Royals broadcaster Ryan Lefebvre who made comments that implied Milton

might
still
need to get his head straight a bit. Milton's going after Lefebvre following the game probably didn't do a whole lot to change the announcer's perceptions. Reality with Milton is that despite immense talent (he is having a tremendous season), his crazy resume is quite (un)distinguished. There's something about MB that makes you want to pull for the guy, but he just seems ill-fated.


Jose Guillen, Kansas City Royals (OF)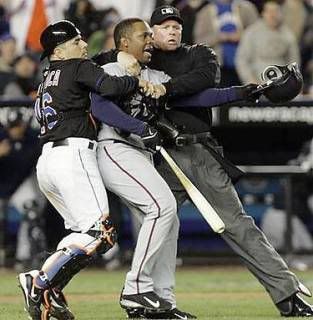 Frank Robinson, a manager who actually liked Guillen, claimed he could "blow up in a second." Since manager Mike Sciosia pissed Jose off during his stint in Anaheim, Guillen has claimed he "wants to kill" all the Angels every time he plays them. He also described Sciosia as being "like a piece of garbage." Perspective is always good. Speaking of which, The Big Lead captures the angry essence of Mr. Guillen fairly well.
Paul Lo Duca, Washington Nationals (C)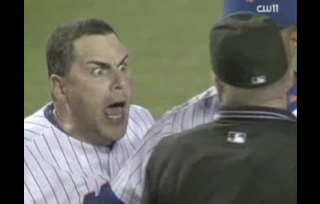 Forget the teen affairs and the fondness of the horsies. Perhaps Pauly didn't always exercise the the best judgment, but such is not necessarily evidence of a a crazed man. You want to see deranged? Ask any Mets fan who watched LoDuca engage in a few of his most heated confrontations with home plate umpires. Those eyes. You simply don't see looks like that from sane men. Period.


Gary Sheffield, Detroit Tigers (1B)
We had to put Sheff at first, because, frankly, our outfield is just too damn crowded. Plus, if we stuck him out there with Guillen, Dukes and Bradley we thought the laptop from which we are composing this post might spontaneously combust. Unlike others, we think Shef is kinda sneaky crazy. Sort of like our All-Crazy skipper (stay tuned, it'll be shocker!), Sheffield often makes you wonder if his craziness is all just a well-choreographed act, a clever ruse, artfully crafted to achieve a very specific objective.

Regardless, he said about his days in Milwaukee: "The Brewers brought out the hate in me…I was crazy man." Don't believe him? Read some more of that quote and plenty of other gems that give some credence to the crazy tag, compliments of the ole' 100% Injury Rate (from back in the day).

Julian Taverez, Milwaukee Brewers (RP)
A trip down crazy lane with the excitable middle reliever compliments of Deadspin's Will Leitch who enjoyed(?) the unique experience of rooting for Tavarez during his time in the 'Lou (while simultaneously holding his breath every single time he took the mound — for good reason). You see, because Tavarez is nuts.


Carlos Zambrano, Chicago Cubs (SP)
Z has earned a spot on this list based on more than his fair share of on-field antics and dugout blow-ups. You know it's bad when the Cubbies hometown paper's blog said the following earlier this month: "Zambrano has been relatively sane this year, until recently…" Never a good sign when those words appear in print, but a surefire way to get yourself on our All-Crazy Team.
Ozzie Guillen, Chicago White Sox (MGR)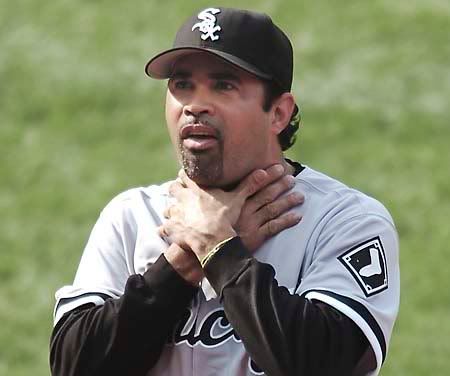 If you were choosing a skip for this team, how it could not be Guillen. The only other candidate might be ejections record-setter Bobby Cox. But we think Bobby just gets bored a lot and figures he might as well get an early shower. As for Guillen, we realize people either love him or hate em. We fall more towards the love side of the equation. That said, he's still got a screw or two loose for sure and some of his comments can only be characterized as borderline crazy talk.
So LCG readers, who else should make the roster? We clearly need some infielders. Stacking the arms wouldn't be hard with guys like Farnsworth out there, and we're sure A.J. Pierzynski would be an acceptable back-up to LoDuca in terms of relative instability. But what are the pieces needed to truly make this team unforgettable? Hit us up in the comments.