The LCG's Inaugural MLB All-Crazy Team

Carlos Zambrano, Chicago Cubs (SP)
Z has earned a spot on this list based on more than his fair share of on-field antics and dugout blow-ups. You know it's bad when the Cubbies hometown paper's blog said the following earlier this month: "Zambrano has been relatively sane this year, until recently…" Never a good sign when those words appear in print, but a surefire way to get yourself on our All-Crazy Team.
Ozzie Guillen, Chicago White Sox (MGR)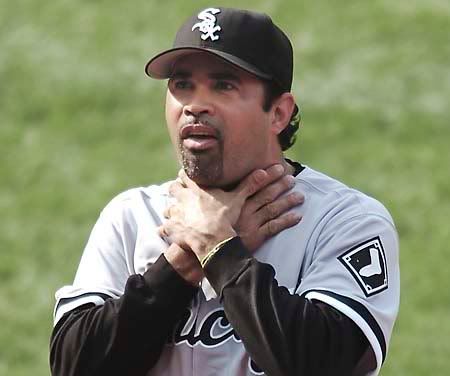 If you were choosing a skip for this team, how it could not be Guillen. The only other candidate might be ejections record-setter Bobby Cox. But we think Bobby just gets bored a lot and figures he might as well get an early shower. As for Guillen, we realize people either love him or hate em. We fall more towards the love side of the equation. That said, he's still got a screw or two loose for sure and some of his comments can only be characterized as borderline crazy talk.
So LCG readers, who else should make the roster? We clearly need some infielders. Stacking the arms wouldn't be hard with guys like Farnsworth out there, and we're sure A.J. Pierzynski would be an acceptable back-up to LoDuca in terms of relative instability. But what are the pieces needed to truly make this team unforgettable? Hit us up in the comments.