The NFL All F-U-Up Defensive Team
Our Captain, Mr. Lewis
Simply put, there are some folks who, by the way they look in a uniform, their demeanor and their on-field performance, flat out scare the s&%* out of you. You know the type. Those terribly violent flying missiles that cause you to turn and cringe as they hurl themselves full speed at another human being with complete disregard for personal well-being. They seem to relish

it. Feed off it.

Need

it.

Oftentimes these intimidating forces are great players. Sometimes they're not. But you know that old "dark alley" saying? These bad-ass mofos are the dudes you have absolutely zero desire to meet there. However, if you were to be mired in a bar fight with losing odds these are exactly the folks that would be among your first-round draft picks to lend a helping hand.

These men might not lead the NFL in tackles or sacks. Some may never even make a Pro Bowl. Yet, they possess a frightening mix of freakish athleticism, hard-hitting style and another level of intensity, all often topped with just a dash of instability (or so it appears). Simply put, these dudes can seriously f-up some s&*.

Most of these enforcer-types play on the defensive side of the ball, so that's where we focused our attention. Our lineup is predicated on a 3-4 scheme to incorporate as many linebacker/tweener-types as possible, since they're typically trained killers on the field. We selected only current NFL players. Here's where we landed.

Hit us with your thoughts and suggestions in comments. Just don't tell any of these guys, because, truth be told, they terrify us.

ILB
Ray Lewis, Baltimore Ravens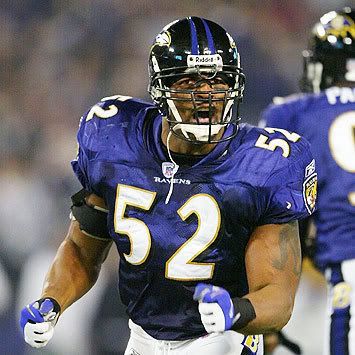 Does anything more need to said here? Really? The scariest part is that Ray Lou appears not to be slowing down. Perhaps it's the mildly insane offseason workout regimen? Whatever the reason, he's the guy who has everyone's head-on-a-swivel on every single down. The barking. The gyrating. The hitting. It all makes him beyond qualified to seriously tear a hole in folks.
ILB
Brian Urlacher, Chicago Bears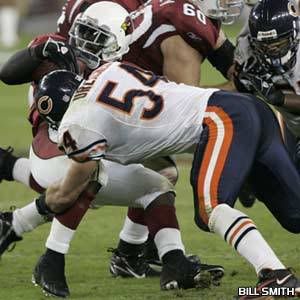 We imagine Urlacher in the locker room shaving his head with a machete like Pedro Cerrano in Major League. He's gotta be the baddest white man in the NFL. Right? Plus, he returned kicks in college, is stupid athletic and looks ridiculously intimidating in those Old Spice commercials. He's got the swagger.
OLB
Shawne Merriman, San Diego Chargers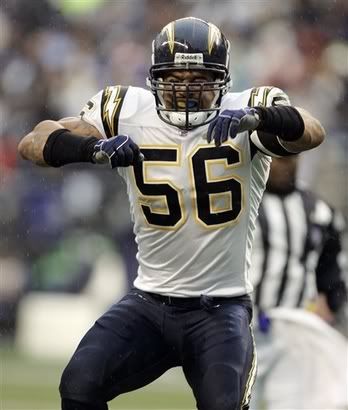 Sure, perhaps the 'roids had something to do with the freakish physique and volatility. But we don't judge on the All-FUU team. In fact, those Lattimer-types are exactly of whom we are the most petrified. And, yes, there is a reason you get a nickname like "Lights Out." It ain't from being no sissy-pants. Starting defense!Place at the table!
OLB
Demarcus Ware, Dallas Cowboys


Ware looks to be a fairly gentle human being off the field. Not so much on it. He's racked up nearly 40 sacks in a shade over three seasons. Ware is listed at 6'4, 262. In '05, he clocked about a 4.5 in the 40, throws up around 430 pieces on the bench and boasts a 38 1/2-inch vertical. The man is a freak of nature.
FS
Adrian Wilson, Arizona Cardinals (HTs to Ed Reed, Baltimore Ravens; Bob Sanders, Indianapolis Colts)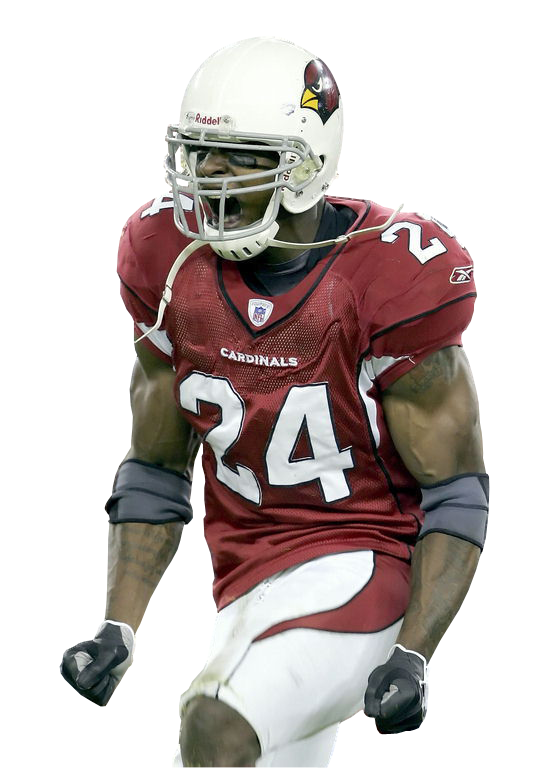 Granted, Reed and Sanders may have more impressive numbers. We'll give you that. Don't care. For our money, nobody at free safety makes us fear for the receivers on our team more than Adrian Wilson. Whereas others may seek to light you up, make the pick and take it to the house, we often get the sense Wilson's priority list begins and ends with decapitation. Besides, not only can he destroy a quarterback, but he could hurdle a lineman on his way.
SS
Brian Dawkins, Philadelphia Eagles (HT to Troy Polamalu, Pittsburgh Steelers)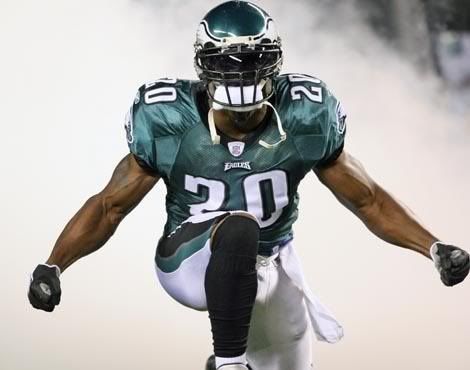 Is it the face shield? Maybe partly. The softball-sized biceps? Doesn't hurt. It's also the screaming, the intensity, the pile-drives, Pro Bowl selections, etc. Oh, hell just check out the video. I mean, Weapon X? Bad. F-in. Ass. By the way, is there any better selection for a hits highlight reel than "Requiem for a Dream?" It's not even a contest.
CB
Pac Man (uh, I mean Adam) Jones, Dallas Cowboys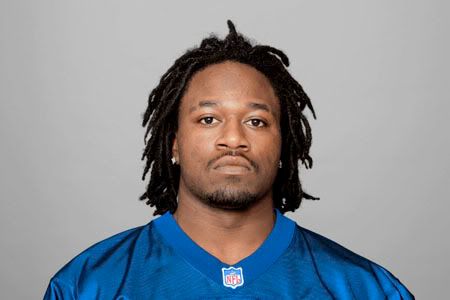 We just thing Pac Man's a couple cards short of full deck. And that is intimidating in and of itself.
CB
Rashean Mathis, Jacksonville Jaguars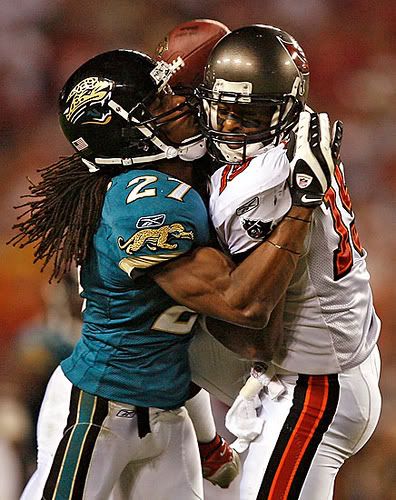 Mathis reminds us of those psychos from Bad Boys II. Seeing him fly around the field the other night versus the Steelers was a sight to behold. Who said a 190-pounder can't be intimidating? Not me.
DE
Jared Allen, Minnesota Vikings; Justin Tuck, New York Giants (HT:Patrick Kearney, Seattle Seahawks)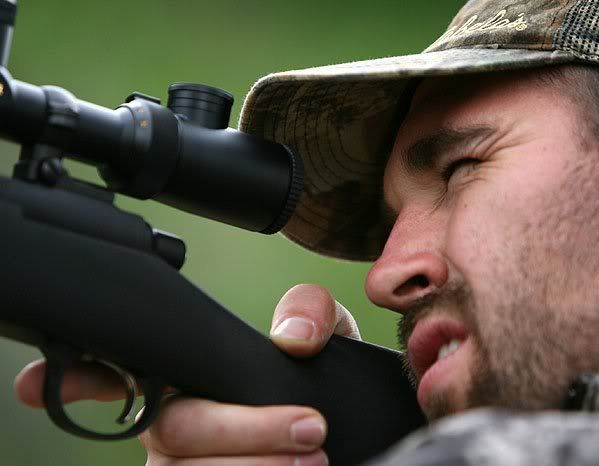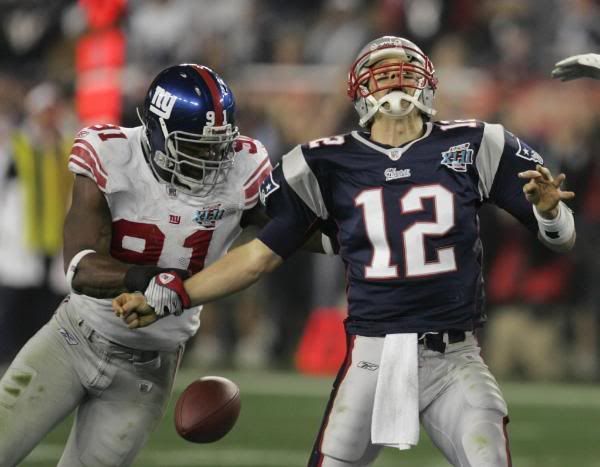 Call us wussies. Men who know how to handle a rifle scare us a bit. As do enormous dudes with tattoos. If they have a history that includes substance abuse, it doesn't give us any particular comfort as the cherry on top. That's why we'd have Jared Allen on one end. On the other? We'll go with Justin Tuck. Sure, he's a younger buck, but he's built like a brick sh*&house and managed to get to the untouchable Tommy Terrific in the Super Bowl. He's also been rumored to snap aluminum bats in half with his bare hands. No, not really, but you can imagine.


NT
Marcus Stroud, Buffalo Bills; Albert Haynesworth, Tennessee Titans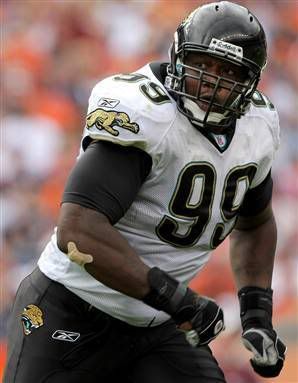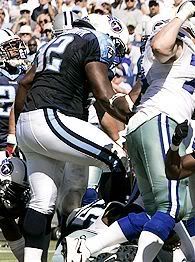 We're cheating a bit on this one. Going with a rotation at nose. Stroud is a behemoth. Human beings are not supposed to grow to 6'6, 310. They're just not. Put all these guys in a steel cage, and we might take Marcus with our money. Haynesworth is possibly the most feared defensive player in the NFL. He's virtually unblockable. Huge and agile and not at all afraid to simply stomp on your head should the situation dictate.
In addition to these men, you could certainly make cases for folks like Tank Johnson, maybe Javon Kearse, Chris Hovan…hell, you could argue this all day. You're welcome to do so, but we'll take our squad against pretty much anyone.