Top 10 Sports Movie Quotes…To Use While Watching Sports
Inspiring Much of the Top 10
There are a handful of quality sports movies. From those, dozens and dozens of memorable quotes and one-liners have arisen. However, the true magic of a sports movie quote is being able to seamlessly drop said nugget in casual conversation. One reaches the pinnacle when you can perfectly drop a s

ports movie quote in the context of a sporting event

.

When this all makes sense, it's magic. I think you know what I'm talking about, but just in case…here's the top 10 that I find myself (and/or fellow fans) dropping while checking out sports spectacles in-person or on TV. And they never seem to get old…

10. "I must break you." (Ivan Drago, Rocky)
Admittedly, it's rare that this one comes completely in the flow. But, once in awhile, you hear a quote from a player or coach that solicits an "I must break you" reference. And when it works, it's money.

9. "You're five-foot-nothin', a hundred and nothin" (Steele, Rudy)
Yes, call it a bias, but it seems this one usually comes directly following a ridiculous and unexpected play — unexpected because the player making said play is, well, tiny. David Eckstein immediately comes to mind.

8. "The sun even shines on a dog's ass some days." (Sidney Deane, White Men Can't Jump)
Often used when something happens that is so atypical that you're not even pissed off. I've used this on occasion when watching the Mets and begging one of our (always reliable) closers to just throw it 95 down the plate and let (fill in career .200 hitter with no home runs) hit it over the fence. "If he does, I'll tip my cap." Seconds later, while tipping my cap, I've mused: "The sun even shines on a dog's ass some days."

7. "Starting defense, place at the table!" (Steve Lattimer, The Program)
OK, I've likely only used this
a handful of times.
When reading about one of the new Jets draft picks cracking the starting lineup, I've been know to drop it. And it's definitely found its way into an email exchange or two…also used it when watching Chris Hovan or other face-painted defenders have a mild psycho fit on the field following a sack or big tackle for loss.

6. "Noonan! Miss it, Noonan" (Everyone, Caddyshack)
Perhaps the most widespread use and applicability across sports. Easy to inject into any pressure-packed sports moment particularly clutch putts and free throws. Miss it Noonan was made for free-throws.
5. "Sweep the leg/Put him in a body bag, Johnny!" (Karate Kid)
I like to reserve this for when Frankie Rodriguez enters the game nowadays. Unfortunately, yelling any such quotes when prior Mets closers emerged from the pen was just plain silliness (see: Looper, Benitez). Now…much fun.
4. "It's in the hole!" (Carl Spackler, Caddyshack)
In theory, perfect for golf and very little else. However, Carl Spackler quotes make themselves flexible enough for any situation.
3. "Don't think this one has the distance…" (Jake Taylor, Major League)
Used in exactly the same manner as the movie…on a pop up to the catcher. Nothing more, nothing less. Yet, every time a backstop turns toward the stands behind home plate and puts his glove in the air I find myself muttering…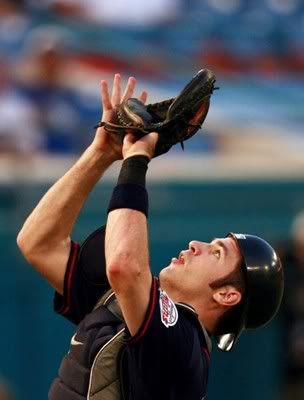 2. "It's too high…" (Wahoo Drum Crew, Major League)
The fact that I can't find a clip of this is the biggest Internet travesty in recent memory. Let's just say every ball that's a no-doubter off the bat from the opponents at CitiField, my buddy and I turn to each other and say: "Too high." Then we proceed with the rest of the classic exchange as if quoting it for the first time. Like grade-schoolers…"at first, I thought the trajectory…" Quite amusing always…
1. "Juuuust a bit outside." (Harry Doyle, Major League)
Perfect for any pitcher who can't come near the plate. Oliver Perez usually solicits a few of these per at-bat. Call me evil, but I immediately think back to a certain playoff series and pitcher every time (still big fan) I ponder real-life usage of this legendary Doyle drop. What's underrated? The next part of the quote…"Juuuust a bit outside…tried the corner and missed."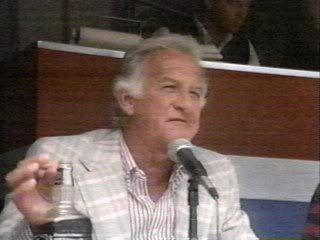 That's what we got, folks. Sure, there are a half dozen more from Major League alone, but I'll leave that to y'all. Hit us with others in the comments. Made-for-game quotes from sports movies. Holla.