Ubaldo, Gittin 'Er Done….I Hope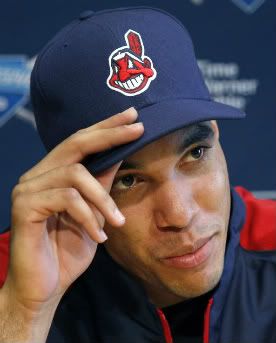 New Tribe hopeful ace (keeping fingers crossed), Ubaldo Jimenez, pitched 8 strong innings last night for the besieged Warriors of the Cuyahoga, and they climbed to two games back of the Tigers. While the Indians offense was the story last night, I was watching Jimenez. Ubaldo was not dominating last night, he was touched up for 3 runs on six hits, striking out 6, but he wasn't bad either. In fact, he was excellent besides a fourth inning in which he gave up all 3 runs. While Ubaldo did give up a single, double, and a triple in the inning, he could have been out of it unscathed had Carlos Santana's arms been a couple of inches longer. With two outs and zero runs in, Santana could not stretch far enough to snag Asdrubal Cabrera's attempt make a great play. The Big "U," as Manny Acta calls him, could have been on the bench cooling off after a 1-2-3 inning.
The Tribe dealt for The Big "U" nearly two weeks ago, and I still wasn't sure how I felt about it until last night. My first reaction to the trade was that they gave up too much. Not concerned with the two sticks as much, but losing out on Alex White and Drew Pomeranz, two stud pitching prospects, stung. What eased the sting for me was that Ubaldo is under club control for two and a half more years. He hasn't been what he was last year, but he still throws in the mid-90's (everyone was bemoaning his loss of velocity). What's more is that his off-speed pitches have great movement and present a drastic velocity drop. And he appears to be a likable guy! Lots more Omar Vizquel than Albert Belle in him.
What won me over last night was the timing of his start. The start came against the team the Tribe is chasing in the AL Central, right after a 14 inning marathon which depleted the bullpen, and at the beginning of a crucial stretch of games. Ubaldo gave up 3 runs to make the score 4-3, but he never let the Tigers score again (getting a rare offensive outburst didn't hurt none either — I Heart Kipnis).
It's just one game and Ubaldo received amazing run support. His first game with the Tribe was an ehhhh, no-decision. The move is no slam dunk for sure. I'd liken it to three point shots. Great if it goes in, but even the great ones only make 35-40% (Larry Bird, career 37.6% from downtown in the regular season) of them. But, I'm glad the powers that be rolled the dice here. The Columbus Clippers 30 games over .500 at 74-44, let's see what the Cleveland Indians can do.