Will We Ever See Another Two-Sport Pro?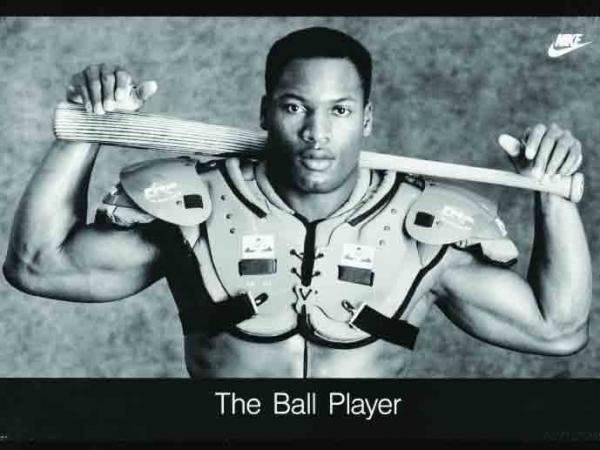 In 1989, Vincent Edward Jackson started in the outfield for the American League All-Stars. Bo hit a monstrous home run off Rick Reuschel, legged out an infield hit and stole a base. That same year, he ran for 950 yards for the Los Angeles Raiders. He hit that yardage mark despite carrying the ball only 173 times while backing up future Hall-of-Famer Marcus Allen. If you're counting at home, that's a healthy 5.5 yards a clip. Not too shabby.
Jackson was a rare breed of athlete. Mention the "wall catch" to most 30-something sports fanatics, and they can immediately recollect Bo literally climbing the wall to snatch a ball over the fence, an all-time web gem before anyone knew to call them that. Most of us can also call up memories of a certain 92-yard run on Monday night football against the Seahawks. Simply put, for those of us who remember, Bo was the real deal.
In 2001, another two-sport athlete played his last MLB game. Deion "Prime Time" Sanders closed out his baseball career with the Cincinnati Reds. Like Bo, Sanders starred in football and baseball but his gridiron exploits left a far more lasting impression that anything he did on the diamond. Prime Time, although generally petrified of tackling anyone, was arguably one of the all-time "shutdown" corners in NFL history. In the glory years, watching Deion return punts made checking out Devin Hester highlights the equivalent of watching paint dry.
For me, Bo represented the promise of something truly spectacular. An athlete blessed with such a rare combination of physical gifts and mental competitiveness (for lack of a better adjective) who possessed the potential to not just be a good two-sport pro player, but a dominant force in both. Deion was no less impressive as a pure athlete, but it always felt like his two-sport effort was fueled more by money, ego and a love affair with the image, rather than the game.
It's been seven years since a player has made appearances in more than one of the four major sports leagues. The bigger question. When will it happen again? Will it happen again?
Today, the challenge of being the next Bo or Deion is perhaps even more difficult. The athletes have been there. Could Tony Gonzalez have played hoops at the next level? A.I. was the top basketball and football prospect coming out of high school in Virginia. Ronald Curry, who similarly made high school headlines in Va., took the two-sport thing to North Carolina but not beyond. Ron C. even dropped a couple dimes to future NFL first-rounder Julius Peppers while they both were heels.
The list of those good enough to at least consider dual-sport aspirations is healthy. More recently, Drew Henson, Jeff Samardzija come to mind. Going back in the archives, you could reference folks like Danny Ainge. But, alas, most have chosen to focus on one sport, although one can argue the logic of some of their respective choices.
And with longer postseasons, no real "offseason" and the added responsibilities that would likely come with the attention, endorsements, and media spotlight, not to mention the physical requirements and mere "logistics" of trying to be a two-sport pro star, we may never see another Bo or Primetime. What say you, LCG readers?